I usually like what I see at the old-school specialist online music shop theMusic.com, but I'm not so impressed with this particular product: The Music Streamer+ is an ultra high performance music interface that allows a computer and a home entertainment system to become perfect partners. With its unique topology, theMusicStreamer+ provides a completely isolated path between the computer and an audio system. No more audio contamination by the computer; your music will always sound its best. There are no external power supplies to worry about because the Music Streamer+ derives its power from the USB buss while completely regenerating power for all its internal circuitry using a sophisticated set of proprietary circuits.
Now I'm not sure it's that hard, is it? Many personal computers have the required outputs and you can simply run a wire… but they do claim "unique topology" and "completely isolated path between the computer and an audio system" so there must be something more going on, eh?
Actually I'm not sure how unique the "topology" is when I already have an AV Labs Music Studio that looks pretty similar. It too has a USB output as well as RCA audio connections in and out. (I also have a older Belkin Hi Speed USB 2.0 DVD Creator device that does much the same with both audio and video but is just data-in, rather than data-out as well) All you need to do is connect the USB on one side of the Music Studio box to the computer and connect an RCA cable to the other side, not forgetting to connect the other end of your RCA cable to your amplifier on your home stereo. If you are an audiophile you'll have a whinge about the quality but that goes with the territory, doesn't it?
As for that complete isolation, I guess they mean that the audio signal is not fed through your sound card or chip (ie you select "USB audio device" in your control panel and deselect your usual audio). That may be good or bad, depending upon your preferences. Sound cards/chips may have some funky hardware that makes things faster/better, that actually enhances the sound… but arguably that's not always the case. So is that it? Doesn't seem so fancy then… the Music Studio was far, far less than half the price of this Music Streamer. So what's new here? Anything? Nothing that I can see at this stage.
Here's a quick grab of images of the AV Labs Music Studio, FWIW…
The outputs..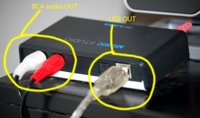 which include the USB on the right and an audio out.. you can connect to your home sound system from here or just use your computer speakers..
The inputs..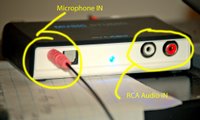 including a microphone input.. you can connect any audio device as an input, if it has RCAs..
The 9 metre cable that connects the computer and Music Studio box to the home audio amplifier: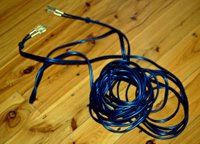 And an example of just one way to connect – in this instance via the front panel of a Desay PVR (but it could just as easily be the back of the amplifier itself)..