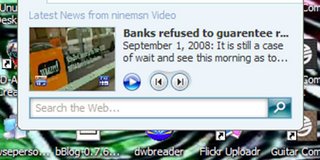 What can we learn from nineMSM today? Apart from the ubiquitousness of gossipy trash, we now know that good spelling is no longer guaranteed. I usually don't care, but it's just so bleedin' obvious!!
The other obvious thought is that it's a non-story. Of course banks won't guarantee a rate cut just because – and even if – the Reserve Bank adjusts its cash rate target. It's a target, a hint, and little more. It certainly makes it more likely that rates will come down but it's not a given. Why beat these stories up? Why does the old media try to make the banks look like the bad guys, especially when lots of us home owners own shares in these banks and don't want them to make bad commercial decisions?
Oh yeah, these old fairy stories still resonate with lots of people, that's right. And the old media no longer care about reporting the truth, they just want to feather their own nests. Got it.